The Story
Most people who haven't visited Egypt don't know much about Egyptian food as it is very rare to come across authentic Egyptian restaurants abroad. However this food guide should shed some light on the food situation in Egypt. Here are ten Egyptian dishes that should not be missed.
People will travel anywhere for good food - it's crazy.

Rene Redzepi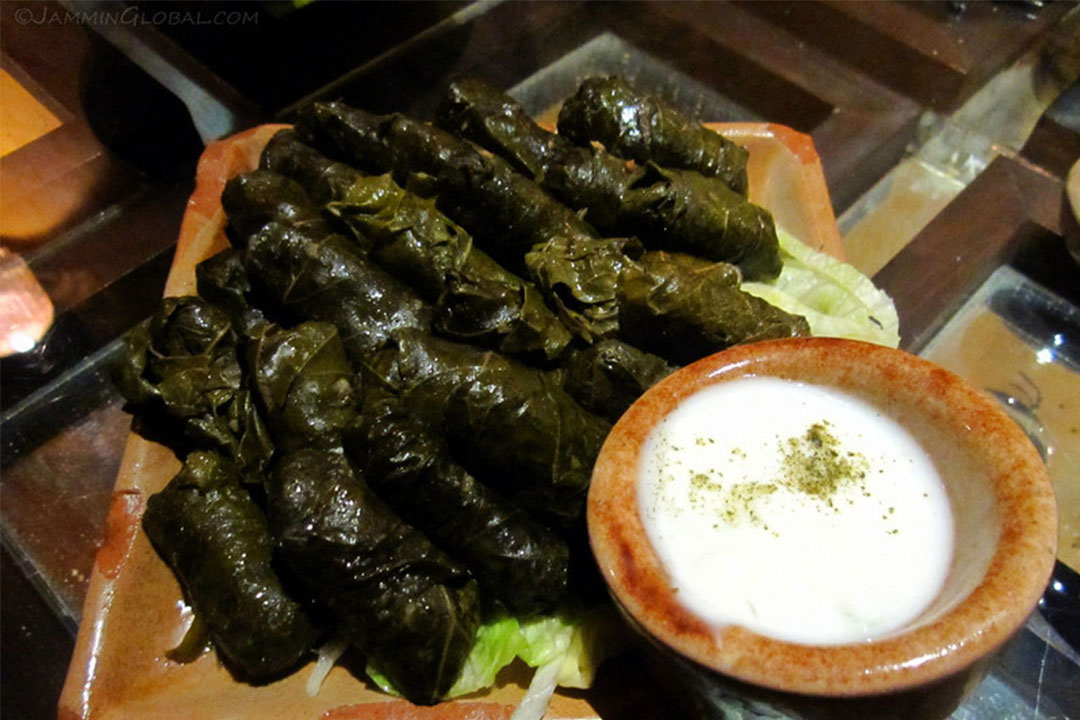 1-Koshary
This is a staple dish and a general crowd pleaser. Made with ingredients that can generally be found in any pantry, it is known as a poor man's dish, yet it is enjoyed by both rich and poor. This dish is made with rice, macaroni and yellow lentils. It is topped with chickpeas, fried onion and a special sauce made from garlic, vinegar and tomatoes. It is served with other condiments, a spicy sauce made with chilli and another sauce made with garlic. There are entire restaurants dedicated to making and serving this delicious yet inexpensive meal, you won't have any trouble finding one, especially if you follow the delicious aroma of fried onion.

2-Ful Medames
The common and cheap dish is basically fava beans that have been slow cooked and pureed, although some people serve the fava beans whole. Egyptians typically season Ful Medames with oil, salt, pepper, cumin and lemon juice. Garlic and tahini are also added. Some people like to add diced onions, tomatoes and parsley. However your preference, this popular dish is delicious. It is mainly served as a breakfast food, but is also eaten throughout the day by many locals. It is served with Egyptian Baladi bread. The way locals eat it is by tearing out a piece of the bread, shaping it into a wedn otta (cat's ear) and then using it to scoop up the Ful. It can also be eaten as a sandwich.

3-Ta'meya
This is another dish made with fava beans. This time the beans are crushed into a paste, then herbs are added. Later, the paste is shaped into little balls and is dropped into hot oil for deep frying. The result is incredibly aromatic crunchy little balls that are soft on the inside. Again, it is a popular and cheap food that is eaten inside pita bread with salad and tahini, or just dipped in tahini alongside any typical Egyptian breakfast. Everyone, specifically vegetarians will love this dish.

4-Egyptian Fattah
This dish is traditionally cooked to celebrate Eid, a muslim festival. Although some Egyptians continue cooking and enjoying this dish throughout the year. A lot of Egyptian restaurants serve this dish, and the method of preparation is basically the same. The dish is typically cooked with lamb meat but can be served with beef as well. The meat is boiled with herbs and onion. Pieces of baladi bread are cut into little triangles and deep fried, then layered underneath white rice. Then a special vinegary, garlic tomato sauce is poured on top. The boiled meat is arranged on top. Finally the whole layered dish is drenched with the meat broth, although some people skip this step. The result is a comforting fulfilling dish that shouldn't be missed if you are visiting the country.

5-Mulukhiya
The leaves of the Corchorus plant, also commonly known as Jew's mallow, are collected, washed and crushed to form a sticky paste. The paste is then added to rabbit stock, although it can also be made with beef or chicken stock. Fried coriander and garlic are then poured on top of the mulukhiya, which give it its significant smell. The result is a thick green stew that is loved by all Egyptians; so much that it is cooked usually on a weekly basis. The way it is served differs from every household. Some people eat it as a soup with a spoon. Some like it over white rice. Others scoop it up with baladi bread. The rabbit, chicken, or beef that was used to make the stock is served alongside the mulukhiyya, boiled and sometimes fried. This dish can be found in many restaurants across the country, although eating it cooked inside an Egyptian home will give you a warmer experience.


6-Hawawshi
This popular street food is simple, yet delicious and satisfying. You can have it as an appetizer or as a main meal. Minced meat is spiced and prepared with onions and green pepper, then spread inside baladi bread. The bread is then wrapped and cooked inside an oven. The meat juices and fat is absorbed by the bread, and is crisped so well, you would think it was deep-fried. Commonly served with pickled vegetables. This sandwich is more on the spicy side, but there are usually milder options available.
7-Hamam Mahshi
This North-African delicacy is a must try amongst a multitude of Egyptian dishes. This is basically stuffed pigeon. Egyptians typically stuff the pigeons with rice or grits. If you are lucky, you will find some pigeon liver and hearts inside too. The pigeons are fried in butter or grilled. The result is a tasty dish that may be confusing to eat, but if you treat it as a sandwich, you won't have a problem. This is a favorite amongst the local adults. Children like it too, but won't be able to eat it without help, so it's not a very child friendly option. Some restaurants serve pigeon soup as a complimentary appetizer with your main meal too.
8-Mahshi
Mahshi is delicious. Period. This dish is extremely popular in the Middle East, and is very popular with both locals and tourists. The Egyptian version has it's own significant taste and some people argue that it is the best version. This vegetarian dish is comforting and filling. Zucchini, eggplant, tomato, green pepper, onions and potatoes are all vegetables that Egyptians carve out and stuff. The stuffing doesn't differ much. Coriander, parsley, dill and mint and crushed and added to white rice with onions and tomatoes. The vegetables are then slow cooked in a buttery, tomato broth. Mahshi can also be eaten as stuffed cabbage rolls or vine leaves, although preparation takes longer. Not many Egyptian restaurants know how to properly prepare this dish, if you can manage an invite to an Egyptian home for dinner consider yourself lucky, for you will be tasting the true authenticity of this dish.
9-Fiteer
Also known as Egyptian Pizza, fiteer is buttery and full of heartwarming goodness. Fiteer is made of layers and layers of filo dough and is cooked in a giant brick oven. You can have your fiteer plain, savory, or sweet. The good part of having Fiteer is the live cooking show you get to watch as the Fatatry (the man who makes the Fiteer) makes it for you. You watch as he expertly spreads the dough and stuffs it with whatever your heart desires. He then slides it into a brick oven and after the stuffing bubbles and the outside is crisp, he pulls it out and slices it up infront of you. Made with love, and will defiantly warm your heart as you bite into a piece. Make sure you try both the savory and sweet options available.
10-Egyptian Oriental Desserts
The array of Egyptian desserts is huge, but listed here are just four that will basically sum up the dessert scene for you.
• Baklava: Baked filo dough that is stuffed with mixed nuts, crushed or whole, baked into a golden crispiness and topped with sweet syrup.
• Basboosa: A soft, golden, crumbly cake that is drenched with syrup. Sometimes coconut flakes are hidden inside, other times covered with nuts.
• Kunafa: Basically filo dough that has been altered to look like vermicelli pasta. Stuffed with nuts, or cream, baked with love, and drenched in sweet syrup.
• Um Ali: Another dish made with filo dough, and is served warm or even piping hot if you can handle it. This time however, the dough is made into a bread pudding, which makes for a lighter and flakier texture. Baked with nuts, raisons, and milk, it will warm your insides and satisfy your sweet tooth.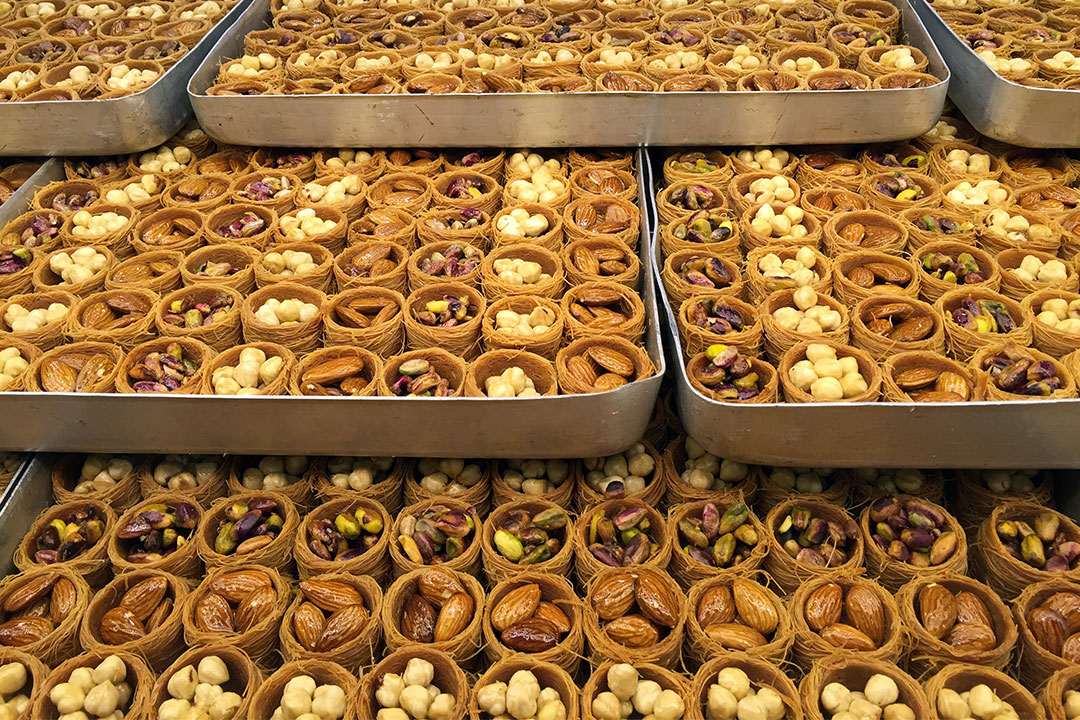 Ofcourse, this guide doesn't cover all the wonderful delicacies in Egypt. There are a lot more dishes that you might come across. These are general crowd pleasers and favorites. However, if you do come across a dish that wasn't listed here, don't be afraid to try it. Chances are it is pretty good.